2023
March 2023 | First aid training
March 2023 | Successful Re-certification and Extension of SARMED's Integrated Management System
Successful Re-certification and Extension of SARMED's Integrated Management System
The re-certification process of SARMED's Integrated Management System by TÜV AUSTRIA Hellas and DQS against certain standards was successfully completed. More specifically, the certifications audited concerned the following standards / specifications:
ISO 9001:2015 for Quality Management
ISO 22000:2018 for Food Safety
ISO 45001:2018 for Occupational Health and Safety
Ministerial Decision 1348/04 for Good Storage and Distribution Practices for Medical Devices
Regulation (ΕU) 2018/848 for management of organic products
As part of the audit of the Integrated Management System, the extension of specific certifications of the Integrated Management System of SARMED to an additional facility in Sindos, Thessaloniki, as well as to the new facility in Volos, were successfully carried out.
The confirmation of the effective implementation and the continuous extension of the Integrated Management System is one more evidence of our commitment to operate by providing our partners with high quality services that meet their needs and expectations.
The Top Management of SARMED warmly thanks the Heads of Departments and Divisions and all the employees for their active and decisive participation in the successful completion of the audit process.
March 2023 | New collaboration with NESTLE
NEW COOPERATION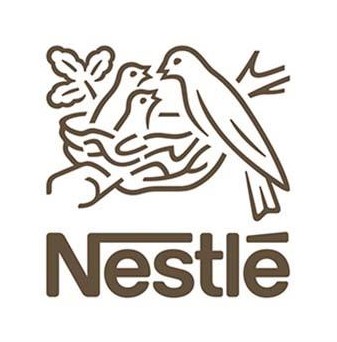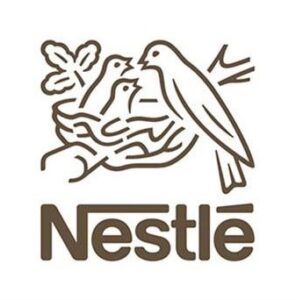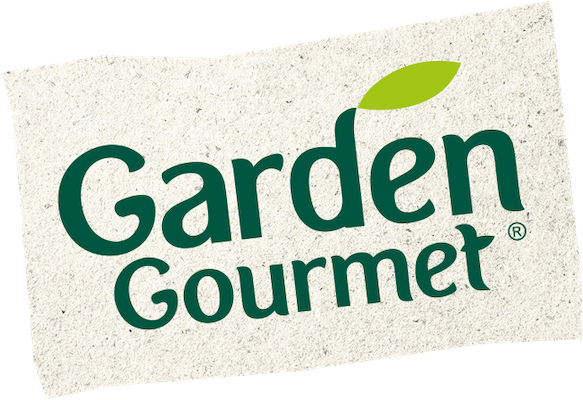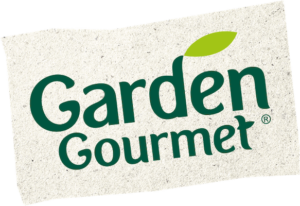 SARMED proudly announces its new partnership with Nestlé.
SARMED, utilizing its network of selected partners, undertakes the nationwide distribution project of Nestlé's Garden Gourmet products in deep-freeze conditions.
This partnership ranks SARMED at the top of the 3PL companies in Greece.
February 2023 | Renewal & extension of collaboration with MIELE
RENEWAL & EXTENSION OF COOPERATION

SARMED proudly announces the renewal of its cooperation with Miele Hellas, No. 1 Premium Brand of Electric Devices, for the storage of all its products, as well as their distribution throughout Greece in stores, B2B and B2C (home deliveries). At the same time, we are also announcing the launch of a new project. SARMED has undertaken the spare parts management for all its product categories.
Miele, with faith in the idea of ​​continuous improvement through the motto "Immer Besser", "Always Better", constantly provides high quality products to its customers, which set the standards for lifespan, performance, ease of use, energy, design and services. For more than 120 years perfect results have become imperative for Miele.
Miele continues to trust SARMED as the most reliable 3PL service provider with absolute expertise that ensures excellent quality services equivalent to the high standards of Miele products.
February 2023 | New collaboration with BIOAGROS
NEW COOPERATION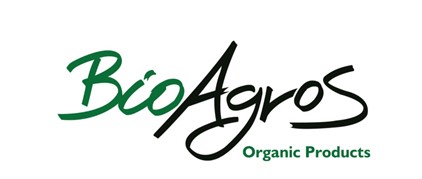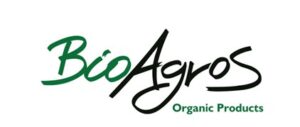 SARMED is pleased to announce its new collaboration with BIOAGROS S.A. for the distribution project of its products in all temperature conditions – dry cargo, maintenance, and freezer.
BIOAGROS is one of the largest organic food companies, pioneering in Greece since 1990. It has significant expertise in organic food products and is constantly evolving through the research and development of new products. It studies modern trends, while it applies strict standards in the selection of raw materials and quality control. The company aims to meet the needs of the modern lifestyle and to offer natural and beneficial products for the well-being of its consumers, as well as to improve their quality of life in general].
One more addition to SARMED's large clientele.
January 2023 | Energy Cost - Article @ Supply Chain & Logistics magazine
January 2023 | New collaboration with KRIVEK Group of Companies
NEW COOPERATION


SARMED proudly announces its new partnership with KRIVEK GROUP OF COMPANIES for the storage and customs warehousing of its products in the new SARMED's state-of-the-art freeze storage facilities in Aspropyrgos Attica.
For more than 35 years, KRIVEK GROUP OF COMPANIES offers the best meat and seafood products to businesses and consumers every day. It is one of the biggest group of companies in Greece, operating throughout Greece with branches in Athens, Heraklion, Chania, Kos and Rhodes, and abroad. The company's mission is to add value to its daily practice by producing with care and respect for people, the land and the environment, and promote excellence through top quality and innovative products combined with a high level of service.
Another important addition to SARMED's clientele.
January 2023 | Feature story @ RE+D
In #134 issue of RE+D magazine, our Chairman & CEO, Mr. Yiannis Sarantitis, talks about the new era in Logistics and SARMED's leading position in the 3PL market.
Furthermore, you can watch quotes from his participation at the conference "Leading Supply Chains in a disruptive world" https://lnkd.in/dC5AiTpJ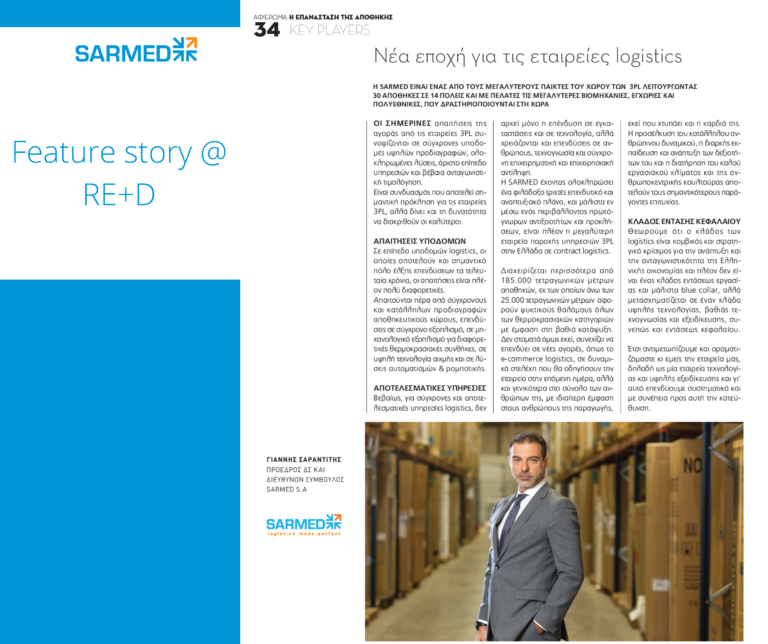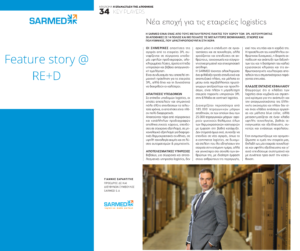 January 2023 | New e-Commerce Logistics Organizational Unit
E-commerce is constantly growing. The pandemic was a catalyst for its significant growth in Greece and worldwide.
SARMED, constantly offering innovative and value-added services and contributing to the success of businesses, invests in the e-commerce market and in dynamic executives to lead SARMED's e-commerce logistics services. In this context, it designs and implements a plan for the development of its services in the e-commerce market. This plan will be implemented by its new e-Commerce Logistics organizational unit, led by Mrs. Fotini Skapinaki, Head of e-Commerce Logistics.
Mrs. Skapinaki is an established executive in the e-commerce market with many years of experience in its supply chain. Also, she has been an alternate board member of the Hellenic Logistics Company and of GR.EC.A – Greek e-Commerce Association.