2016
December 2016 | Season's Greetings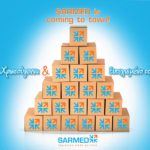 December 2016 | ROUPAS chooses SARMED as a logistics service provider
Roupas A. I

raklis Ltd operates and holds a leading position in raw coffee imports from several countries (Brazil, S. Africa etc.). The sales network consists mainly of the largest wholesalers and HO.RE.CA. points. As part of its development, but also because of imminent excise tax to be imposed on coffee products from 1.1.2017, the company decided to strategically change their logistics model from in-house to outsource (3PL). Therefore, after completing its research on the 3PL market, ROUPAS chose SARMED as a partner for the provision of logistics services.
With the use of storage space of about one thousand square meters in SARMED's facilities in Mandra under customs warehousing, ROUPAS will service at least 800 tons of permanent stock. In addition to storage services and inventory management, SARMED shall also provide ordering services and will be responsible for unloading pallets of goods, stacking and accounting management.
Given the specialization of SARMED (among others) in the product category of food and beverages, as well as due to high expertise and decades of experience in customs warehouses, systems and procedures, ROUPAS' choice was inevitable. The management of SARMED would like to warmly thank ROUPAS Ltd. for its trust and welcome the new partnership by committing to high quality of services.
October 2016 | ECG Conference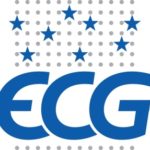 SARMED executives Y. Sarantitis and D. Kympizis attended the 2016 ECG conference (Association of the European Vehicle Logistics) which was held in Hamburg, Germany on the 20 & 21st of October. Megatrends in car manufacturing industry and their effects on vehicle logistics sector, as well as innovation and performance excellence through digitalization of the logistics circuit were the main thematic axles of the conference. SARMED execs had also the opportunity to visit certain service areas of Hamburg port such as the car terminal & the container depo and to learn about the activities, procedures and practices of one of the top European ports.
October 2016 | Sponsorship & Presentations @ 20th Panhellenic Logistics Conference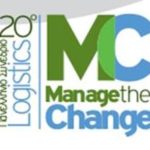 SARMED participated at the 20th National Logistics Conference of EEL "Manage the change" not only as a sponsor (as every year), but also with the active attendance of its executives : Y. Sarantitis, B. Siaflas and D. Karagiannis on targeted thematic presentations and panel discussions, referred to transformation and development of the logistics environment through innovation and synergies.
October 2016 | Sponsor for Core Relief

This is the 1st International Innovation and Humanitarian Planning Workshop which was held in Lesvos in October, focused on open source design applications and 3D printing in the design, manufacture and supply of basic relief items which are distributed to global humanitarian crises.
An international team from the Netherlands, Sweden, Syria, United Arab Emirates and Greece, worked in the humanitarian field of Lesvos alongside non governmental organizations, universities, research institutions and companies active in humanitarian design, to create improved products and processes through innovation. SARMED participated as a sponsor, undertaking transportation and supply of equipment for the whole project.
October 2016 | Sponsor @ 2nd International Logistics Forum (ILME)

SARMED was a sponsor at the 2nd International Logistics Forum in Athens, organized by ILME in collaboration with the European Logistics Association and the Geo Routes Cultural Institute, which is held under the auspices of the Embassy of the Kingdom of the Netherlands in Athens
September 2016 | SELIS PROJECT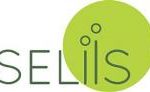 SARMED is participating in a pioneering European Initiative together with some of the top logistics and IT companies globally such as DHL and IBM. The SELIS PROJECT aims to deliver a platform for pan-European logistics applications which will enhance information sharing for collaborative sustainable logistics. The project is funded by the Horizon 2020 European initiative. SARMED will contribute by developing a groundbreaking platform that will improve the transportation reality in Greece. http://www.selisproject.eu/
September 2016 | New Integrated Management System Policy
July 2016 | Commencement of cooperation with Thrace Flourmills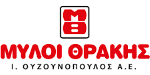 Commencement of cooperation with Thrace Flourmills, a leading company in the field of production of bakery and confectionery products. Thrace Flourmills, with a course of almost 100 years, is a Greek family business that has grown into a modern company which not only respects tradition but simultaneously embraces innovation and has an eye for the future. As a result, one of the decisions was to entrust the entire supply chain service in the form of outsourcing, to a 3PL provider. SARMED is delighted to be working with a company that shares the same values and culture, is people-oriented, pursues excellence in every field and has a customer-focused philosophy.
July 2016 | Gold Sponsor for ILME

Consistent in supporting institutions and organizations that promote the Greek community of Logistics, SARMED proceeded to the Gold Sponsorship of the Institute of Logistics Management Greece, a member of the European Logistics Association. ILME is a scientific non-profit organization that highlights the importance of logistics for businesses, the extroversion of Greek companies in their sector, training and certification of personnel and a number of other conference and scientific actions.
June 2016 | Commencement of cooperation with MINERVA

MINERVA, a pioneering Greek company in the food sector with major exporting activity, entrusts the management of its supply chain to SARMED. This cooperation appraises the best know-how and expertise of SARMED in the food sector and the constant effort for excellent services, as MINERVA is well-known for its high standards throughout their range of procedures. The services offered concern transportation, storage, sorting and distribution of dry cargo and maintenance products to MINERVA's network. SARMED would like to express its gratitude towards MINERVA and commit to effective high quality of services.
May 2016 | 8th voluntary blood donation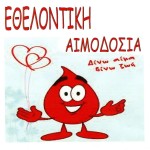 SARMED's blood donation team contributed 32 valuable units of blood this month to help our fellowmen who have immediate need for blood.
The total supply of SARMED's blood donation team is 240 units of blood, from the first donation to date.
April 2016 | HAPPY EASTER!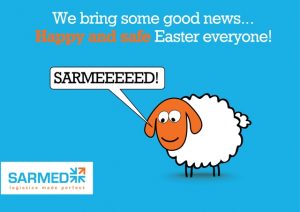 April 2016 | Commencement of cooperation with MEDIA SATURN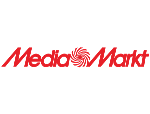 With great pleasure, SARMED proudly announces its collaboration with the German multinational electronics retailer company, MEDIA SATURN. This is the third and largest cooperation of SARMED in the field of e-shops management, a sector with great potential and perspective and with special attention to the development strategy of the company. The object of the cooperation is initially the management of the e-shop of Media Markt for all its products, while except for white and black appliances it is also extended to general home furnishing products.
March 2016 | New cooperation with G & J. PASSALIS SA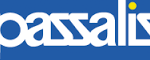 SARMED is pleased to announce the start of cooperation with the exclusively Greek import and trading food business, PASSALIS SA. With a course of decades in the food area, PASSALIS company is an example of a family business that has withstood the difficulties of time and has strengthened its presence in a highly competitive environment. The cooperation refers to the integrated management of all its products (transportation, warehousing, value added services, distribution) in dry cargo as well as cold storage, including deep freeze storage.
February 2016 | New cooperation with P. PAPADOPOULOS SA

The importing company with a leading position in the field of gardening/fields/ forest machinery, P. PAPADOPOULOS SA, with numerous brands including Husqvarna, Gardena, Mc Cullock etc., assigned the vertically integrated supply chain management of its products to SARMED.
We welcome the new cooperation with an exclusive Greek company that is distinguished for consistency, professionalism and continued growth, based on healthy partnerships and solid financials.